Description
Winner of the 2021 Dobloug Prize (Norway), Longlisted for the Prix Femina 2021 (France), Winner of the Norwegian Critics' Prize for Literature, Shortlisted for the Norwegian Booksellers' Prize… and now a Found in Translation Feature at Upstart & Crow.
We are delighted to present an interview with the prolific and enigmatic Mona Høvring: an award-winning poet and author, whose most recent work, Because Venus Crossed an Alpine Violet on the Day That I Was Born, has captured imaginations and hearts across Europe, and now Canada.
Aimee Wall calls it, "A luminous tale of the "burdensome tenderness" between sisters and the emotional tumult of breaking free, Høvring's novel transports you to the faded grandeur of a hotel high up in a Norwegian mountain village. Høvring's prose, in Rankin and Dickson's translation, is sensual and searching and allusive; it shimmers with a strange winter light. I fell immediately under its spell."
This is one of our top recommendations of books this season.
Don't miss an opportunity to discover more about its author, the inspiration behind it, and the process of moving a book into translation.
Ticket Info
TICKET: FREE
Book + Ticket: $24.95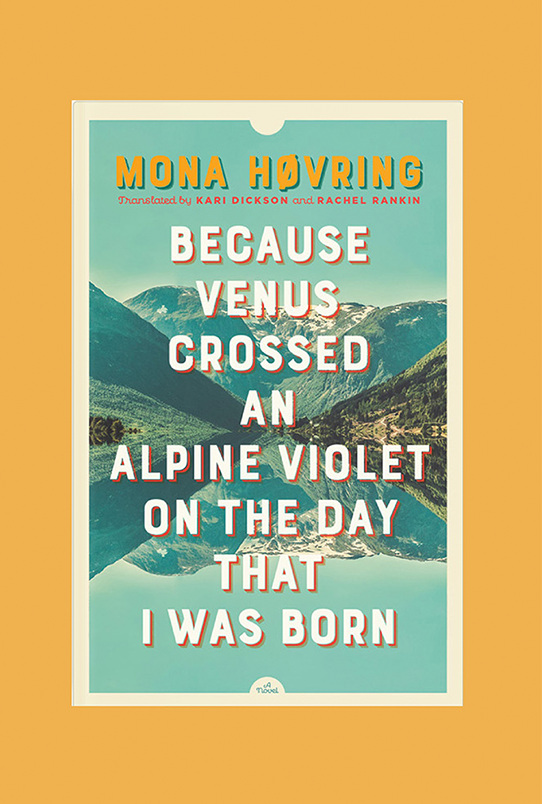 Because Venus Crossed an Alpine Violet on the Day That I Was Born
In a hotel, high up in a mountain village, two sisters aim to reconnect after distant years that contrast their close, almost twin-like upbringing. Martha has just been discharged from a sanatorium after a mental breakdown. Ella agrees to keep her company in the hope that the clean winter air will provide clarity—and a way back to their childhood connection.
It's only when plans go awry, and Martha disappears in a rage, that Ella discovers a new sense of self outside her filial role. This identity is reinforced by various encounters: the hotel receptionist who takes her under her wing; the enigmatic love interest; the wistful, drunken Salvation Army soldier; the carpenter. And not least, Ella's encounter with the writings of Stefan Zweig, which have a profound impact.
Mona Høvring's award-winning novel Because Venus Crossed an Alpine on the Day that I Was Born is as sharp as it sensitive; insightful as it is original when exploring the many distractions of the heart