Description
Join us on Saturday, Oct. 21 for an intimate book and panel discussion in honour of River Meets the Sea, a moving new novel about the complex nature of identity by Rachael Moorthy.
In this event, Moorthy will be in conversation with writers Junie Desil and karmella benedito de barros, discussing their work and topics such as identity and displacement. Our moderator is Franz Seachel.
Filled with mouthwatering descriptions of food and stunning depictions of Coast Salish lands, River Meets the Sea flows like the waters to which protagonists Ronny and Chandra are tethered. It questions what it means to be othered, interconnected, and a part of the natural world.
This event is free, and books will be for sale, of course! Please register at the Eventbrite here, as capacity is limited.
More about River Meets the Sea:
An enthralling nautical epic, River Meets the Sea traces the dual timelines of a white-passing Indigenous foster child in 1940s Vancouver and a teenage immigrant in the suburbs of Nanaimo in the 1970s.
A natural-born storyteller, Ronny is a left-handed "alley mutt" without a birth certificate who searches for his mother everywhere — most powerfully, he hears her voice in the surging Stó:lō River. Born in the middle of the ocean on a merchant ship departing Sri Lanka, Chandra is a dark-skinned Dravidian boy with complicated roots and who finds his haven from his colourist mother and the pressure to assimilate by swimming and surfing in the Salish Sea.
Moving gracefully between these parallel stories like a wave, the novel traces the seemingly separate lives of these sensitive young men, their displaced Indigenous identities, and their everlasting connections to water. When their troubled paths inevitably cross, they form a sacred bond based on the mutual understanding of what it means to be othered, illuminating the interconnectedness of humanity and our innate relationship with the natural world.
More about the panelists:
Rachael Moorthy is a lover of water, wisteria, and words who is still trying to find the right ones in order to answer the question: "Where are you from?" A storyteller of all trades, she is passionate about writing from the perspectives of melanated folks who, like her, are caught in the liminal aftermath of colonialism. Her debut novel River Meets the Sea hit shelves on May 30 and was featured on CBC's Canadian Fiction to Read in 2023 list. Moorthy has a bachelor's of writing from the University of Victoria and is pursuing a master's in multi/interlingual literary studies at the University of Basel.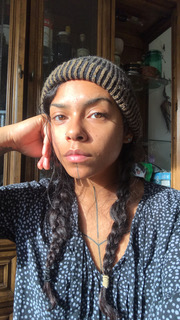 karmella benedito de barros (they/them) is a tired 2S afro-brazilian & mistawasis nêhiyawak plant lover, youth worker, community weaver, sporadic artist and collaborative organizer. they are a co-founder of the art ecosystem collective, member of the indigenous brilliance collective, youth engagement facilitator with vancouver coastal health and garden coordinator at 
xʷc̓ic̓əsəm
 UBC garden.

born and raised in diaspora as an uninvited guest on stolen & unceded Musqueam, Squamish and Tsleil-Waututh territories; karmella's artistic practice is informed by the land, displacement and a desire to heal through perennial creative dialogue. cultivating a sense of connection and belonging, celebrating
 fractals and the little things is all central to karmella's creative and care work. 
their most recent experimental film "Black Native" is featured in Activations Of Solidarity with the Indigenous Curatorial Collective (2021), and poetry is featured in the collaborative exhibition "A Genocide Laid Bare" at Massy Arts (2023).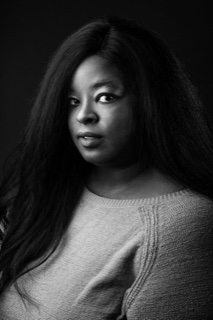 Junie Désil is a poet. Born of immigrant (Haitian) parents on the Traditional Territories of the Kanien'kehá:ka in the island known as Tiohtià:ke (Montréal), raised in Treaty 1 Territory (Winnipeg).


Junie's debut poetry collection Eat Salt|Gaze at the Ocean (TalonBooks, 2020) was a finalist for the Dorothy Livesay Poetry Prize. Junie currently lives on the traditional territories of the Homalco, Tla'amin and Klahoose where she is currently working on a forthcoming poetry collection.
River Meets the Sea
"Brilliant and inventive, River Meets the Sea is elegantly told in heartrending poetry. Moorthy's protagonists, Chandra and Ronny, feel familiar in their search for meaning and belonging, even as they grapple with the implications of race and masculinity. With exquisite prose in which water becomes just as much a character as Chandra and Ronny, River Meets the Sea flows smoothly between the protagonists' histories, the forces that propel them, and their inevitable meeting."

—Francesca Ekwuyasi, author of Butter Honey Pig Bread
View Book